Commercial Kitchen Cleaning
Specializing in Kitchen Exhaust Systems
Commercial

 Kitchens have their grease exhaust systems cleaned for several reasons.

The most important is to stay compliant with fire & health codes!

A byproduct of cooking is the accumulation of airborne grease.

Because this build-up is highly flammable,

its removal is one of the responsibilities of running a commercial kitchen.


The frequency of this cleaning is determined by the volume and type of cooking being performed.

The function of your kitchen's exhaust system is to circulate air by
REMOVING hot, smoky and greasy air, PULLING IN fresh clean air.


Having accumulated grease built-up on your roof top fans, ducts & filters will

limit the efficiency of the circulation in your kitchen's exhaust system.



A

properly cleaned exhaust system will result in a working environment that is cooler, cleaner & safer.


It will also extend the life of your equipment.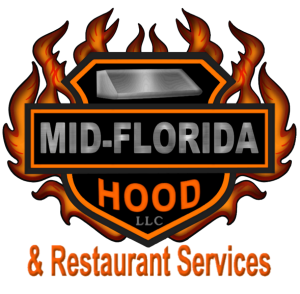 Kitchen Exhaust Cleaning
.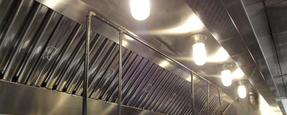 We recommend cleaning of your kitchen's exhaust system according to
NFPA Code 96 Guidelines.
Depending on several factors, this recommendation may be Monthly, Quarterly, Semi-Annual or Annually.
Each service includes degreasing of rooftop fans, ducts, canopy hoods and filters.
Canopy hoods to be cleaned inside & out then dried & polished with steel shine.
All systems cleaned in accordance with N.F.P.A. Code 96 and local/state regulations.
Our basic cleaning rates are equivalent to $120/hr ($150/hr for Asian type cooking).

Our minimum price is $360 ($450 for Asian type cooking). This is for jobs that can be completed within 3hrs (must be under 4hrs w/travel). *Depending on the amount of duct work & number of hood systems to be cleaned, jobs normally take between 3-8hrs.

Call for a free estimate!
Repair Services
Mid Florida Hood is capable of repairing, maintaining or modifying existing kitchen exhaust systems as long as an Electrical, HVAC or Building Contractor license is not required.
Services Calls (w/1tech) are $85 for the 1st hour, additional labor is billed at $68/hr plus parts, COD. 

*Our labor rates include travel over 1hr (to & from combined). If we travel 1hr each way to a service call, the 1st hr would be $153 instead of $85.

There is a one hour minimum even if the issue is referred to licensed professional (Electrician). We do not provide electrical services!
Typical Service Calls replace worn out parts including fan belts, bearings, pulleys & motors.
 Consulting Services
Take advantage of Dan's knowledge in the kitchen exhaust industry. He has over 35years experience cleaning & maintaining plus 10years experience fabricating & installing kitchen exhaust systems.  
From new construction to replacing an existing system, educating yourself before making this large investment is always a smart choice. Dan will alway offer an honest and unbiased opinion of the best options available to you.
If a contractor is needed, we could refer you to a company that has experience installing grease exhaust systems. Mid Florida Hood is not a licensed contractor and can not perform services that require a building, electrical or HVAC professional license.
Consultations services are $65/hr.

 Other Cleaning
EQUIPMENT CLEANING:   We thoroughly clean kitchen equipment, removing months or years of build up. 

FLOOR CLEANING:  This is a service we can perform to eliminate slippery or sticky kitchen floors. Cleaning with a steam pressure washer provides a service superior to using a mop and bucket.

CLEAN OUTS:  This is a service normally requested before a restaurant opens.  We clean everything from walls, ceilings, floors, equipment, shelving and walk-in coolers/freezers.  A clean out may also be needed to comply with fire or health inspectors.

SMOKER CLEANING:  We have extensive experience cleaning commercial smokers. Please note that arrangements must be made so the smoker is not hot before our service can begin. Some customers may need to cook extra meat the day prior to the service to be prepared to allow the BBQ to cool down.

PIZZA OVEN CLEANING:  We've cleaned numerous styles of commercial pizza ovens. Please note arrangements must be made so the pizza oven is not hot before cleaning begins.  The price of cleaning Pizza Ovens varies due to the type of cleaning being requested and specification of the machine.
STEAM/PRESSURE WASHING: We have several hot and cold water pressure washers. We can clean pretty much anything using these machines.
 
CUSTOM STAINLESS STEEL WORK:  Custom piece work or fabrication available upon request.